今季のテーマは「SMOKE」。
タバコにまつわる沢山のストーリー。
飲み屋で話すようなちっぽけな話しでもそこには男としてのこだわりや大人への背伸び、素敵な映画のワンシーンがつきものです。例えば、かぶタバコや『コーヒー&シガレッツ』。ここには遊び心やダンディズムが沢山含まれています。
ポール・オースターの原作に基づき1995年に公開されたアメリカ、日本、ドイツ合作の映画「SMOKE」。
ブルックリンに生きる人々の姿を、過去現在、嘘と真実を巧みに交差させながら男達の哀愁と深みを良質かつシンプルに描き出した映画です。
世の中のものは全て煙のようなもの。
色即是空。
登場人物と大切な友人へのオマージュとしてコレクションを完成させました。
The theme of this season is "SMOKE".
There are a lot of story about cigarettes all over the world, you know.
And a lot of sense of funs and dandyisms are included in those stories.
This collection was created with the movie "Smoke" based on the novel by Paul Auster , as its image source.
I completed the collection as hommage to characters of this movie and some important my friends.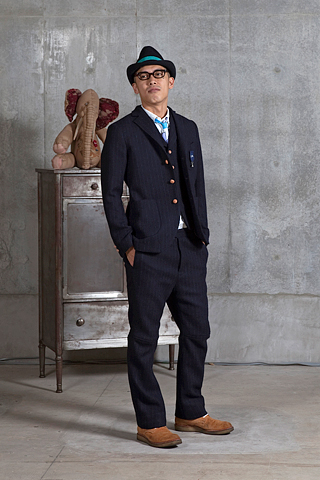 01
<Credit>
HARRIS Tweed Jacket ¥60,900,-
HARRIS Tweed Vest ¥31,500,-
HARRIS Tweed Pants ¥37,800,-
Cotton Shirts ¥18,900,-
Vintage Fabric Tie¥9,450,-
Elephant Decoration ¥1,890,-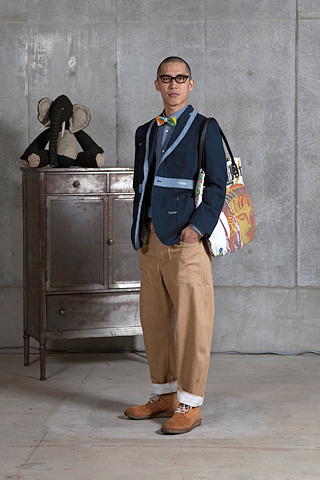 05
<Credit>
Original Print Jacket ¥52,500,-
Indigo Shirts ¥21,000,-
Work Pants ¥29,400,-
Vintage Fabric Tie¥8,400,-
Vintage Fabric Bag ¥50,400,-
All Elephant's dolls ware made by Yuya Inagawa at Chinretsu-bijutsuhin-Seisakusyo.
http://chinretu.exblog.jp/