テーマは "Life is life. It's only beautiful if you make it beautiful."
つまり、「人生は人生。楽しくするのは自分次第。」という意味です。
前回、インスピレーションを得た、1995年に公開された映画「SMOKE」の原作者の監督デビュー作、
『Lulu on the Bridge(ルル オン ザブリッジ)』でこの台詞が出てきます。
映画の内容はともかく、東日本大震災後、被災地に何度か足を踏み入れ微力ながら手伝いをしてきたからか、
この台詞が耳に残り、テーマとしました。
被災地の方々のみならず、何かの局面に立つ時にこの台詞を思いだしてポジティブにことを運べたら
自分自身が幸せになれるのではないでしょうか。
コレクションでは、着る人のモチベーションを上げられるようデザインを施しています。
The theme is "Life is life. It's only beautiful if you make it beautiful".
These are words of the movie of "Lulu on the Bridge".
After the 2011 Tohoku Earthquake and Tsunami, we often went to the area effected by the earthquake and helped the sufferers.
So, these words remained in our ears and we took them as the theme.
In this collection, we designed so that the motivation of those who wear could be raised.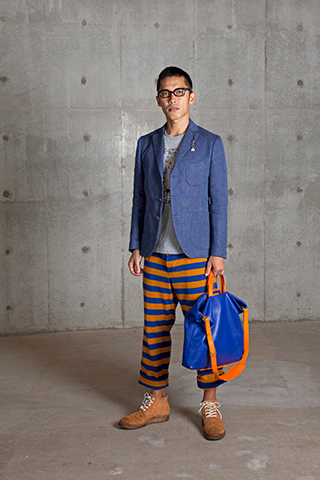 03
<Credit>
MAGGY Linen Jacket ¥59,850,-
T-shirts ¥8,400,-
Border Pants ¥21,000,-
Bag ¥52,500,-